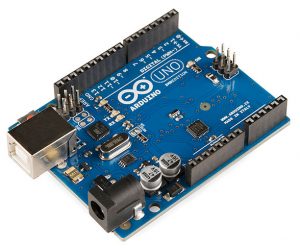 This is very important age group who are preparing to get ready to face industry for employment or entrepreneurship. At this point, along with their college academics, students also need to prepare themselves for industry and getting better employment opportunities.
We have signed MOU's with a number of Engineering Colleges to prepare their students to face industry and competition. Industry feedback is taken to develop the curriculum taught to these students. University Academics seems inadequately equipped to the fast changing industry trends in technology. While students have the right exposure in terms of technology through internet, mobile and media, they seem to using less of these tools for updating their own knowledge.
We have devised curriculum for helping engineering students to learn technology as well as industrial automation as per the requirement of industry.
Arduino Based D-I-Y Kit – Advance Level
Students are taught to use Arduino Microcontroller integration with sensors and output devices using various technologies like Bluetooth, DTMF and RF
Arduino Based D-I-Y Kit – Expert Level
Students create Expert Level projects and learn various application of technology in their surrounding at low cost. Projects like Arduino Home Automation System, Climate Control, Arduino Radio, etc.